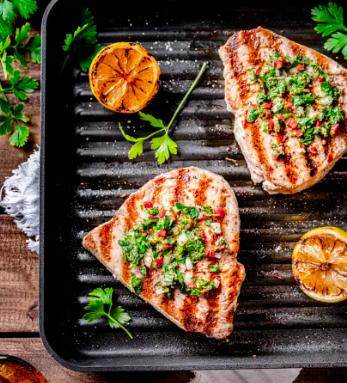 Photo courtesy of cooking with wine blog
Prep Time: 10 minutes
Cook Time: 20 minutes
Total Time: 30 minutes
Serves: 2
Rice (or riced cauliflower!)

Garden salad

Roasted seasonal veggies
Swordfish can swim up to 50mph! They are also enjoy areas that are neither too hot nor too cold – like the Indian Ocean for example.
Two (2) 6 ounce Swordfish fillets
1 TBSP olive oil
2 TBSP parsley
3 cloves garlic, minced
1/4 TSP crushed red pepper
1/2 TSP lemon peel, grated
1 TBSP lemon juice
2 TBSP room temp unsalted butter
Salt and Black Pepper (to taste)
1: Preheat the oven to 400 degrees
2: In a medium bowl combine the parsley, garlic, red pepper, lemon juice, lemon peel, butter and salt and pepper. Blend all the ingredients until combined and set aside.
3: Rinse the swordfish and pat it dry using paper towels. Make sure that you get all of the excess water removed. Season with salt and pepper on both sides of the filet.
4: Heat a large skillet over high heat on the stove and add 2 tablespoons of olive oil. Once it starts simmering add the swordfish and fry for 2-3 minutes or until brown. Flip and brown the other side for 2-3 minutes.
5: Once it is done browning, transfer the skillet into the preheated oven and roast for about 8 to 10 minutes.
6: While the the swordfish is roasting, melt the garlic butter mixture in a pan on medium low heat. Remove heat once it has begun to bubble and set aside. 
6: Once the swordfish is fully cooked, remove from the oven and top with the butter garlic sauce and serve immediately.